RF is an amateur group with "Gocha-Maze style"
where all kinds of talents gather together
You can unlock your potential possibilities to the greatest extent
and meet many friends here!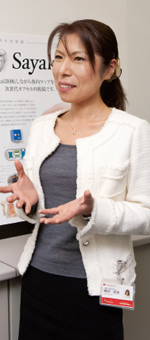 Naomi Karasawa
Executive Vice President
You can find a different you here
Have your infinite possibilities and opportunities been artificially narrowed down by yourself labeling at your own discretion based on your gender, major in arts or science, age or your personal personality? In RF, we do not need knowledge or experience. We only need your hope and dreams in your eyes. As long as you are positively aggressive and always energetically eager to challenge yourselves, for which, however, others may think you are reckless, you are the person we need. We do not need you to be a perfect person from the very beginning. As long as you have the courage and faith to "have a try", everything is possible!

RF is in fact a group formed by persons without any related experience or knowledge at first. However, by adhering to explicit goals and with incomparable enthusiasm to keep learning, these persons transcend those persons that have some experience but are not that excellent. Now, many of RF's staff are keeping challenging themselves and making great progresses, and they are keeping discovering their potential possibilities and outstanding capabilities. Of course, these have nothing to do with the job positions arranged.

As long as you want to have a try, you can challenge yourself at any time. That "all kinds of talents gather together, called 'gocha-maze style'" in RF shows the charm of RF, and in RF, you can find a "different you".
---
RF's members
Sales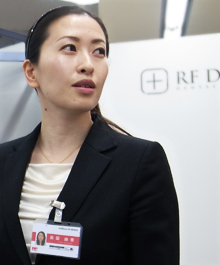 Yuka Shimada
It is not too late to seek a goal later
I joined into the head office in Nagano by changing my work. After working at the management department for a year and a half, now I work as a sales staff of the Osaka store. I changed to be a sales staff for the company published the announcement on the "recruitment of members for the New York store", and although I could not speak good English, I wanted to have a try and applied for it. That was why I entered into the sales department. However, as I had only the experience in dealing with certain affairs, I am now doing business while keeping learning, and in this process, I have set up new goals too. I am very grateful that the company provides an environment for us to challenge the new things. Among the staff in RF, some entered the company after finding their own goals, and some have found their goals after joining the company, but all of people at RF are truly hoping to move forward. As those people gather here, our unity is constantly reinforced. As long as the general manager clearly points out the development direction of the company, then we should think how to take actions by ourselves. RF is such an unusual company that does not attach great importance to our past experience, age, job or gender, and I feel that this is the company that I have been looking for.
Entered into the company in 2008  Management department → Osaka Store
"I am now staying in a place beyond the conventional framework". She is like a charming "Anego" with luxurious appearance and hidden power. We take challenges from the very beginning with the courage and braveness admired by junior team members. In her words, "I made this comments (RF staff's voices) with the mind that I want to be like this after years too", we already feel her further progresses she will achieve at RF.
R&D Department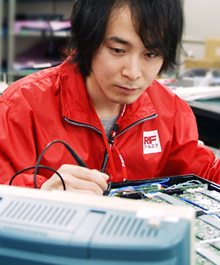 Akio Koyanagi
It gives us a stage where we can have a try and take challenges
I was graduated from electrical specialty in polytechnic senior high school. But, to be honest, I did not like those simple theoretical or formulary lessons. However, I become interested and applied for a job in RF when I saw the introduction of RF on TV. Later, I met the seniors that had designed new products one after another in the company, and I became more determined to be a person like them. Even on a day off, I had asked them to stay in the office and I was trying the simple circuits myself with spare parts. And then, seniors saw me trying that, they asked whether I would like to try the design work too. Then, I got a chance to carry out the design for X-ray sensor. "Yes!" I replied immediately that time. However, I knew nothing about design work that time, so I bought a lot of books and read them all. After racking my brains, trying all kinds of methods and making multiple improvements, eventually, I created NAOMI. Now, NAOMI has been widely used around the world. I think if I had entered into an ordinary company, I would be an ordinary operator. But this company offers me the environment and opportunity to challenge new things, and I have many friends and partners who always support me here. Therefore, I can continue to work hard and take new challenges.
Entered into the company in 2011  Production Department → R&D Department… Entered into the company again → R&D Department
When he was a child, his dream was to become a designer. But what makes him realize his dream is not his study at school, but those lovely and respectable seniors and the power to "want to do". As a person greatly associated with the birth of the unprecedented X-ray sensor, Digital X-Ray Sensor, NAOMI, he once quitted the job here, and then returned after experiencing external environment. And he is now at the middle of the environment he was encouraged before.
Production Department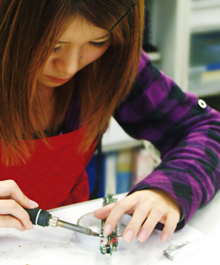 Miho Aoyama
If you keep thinking that "you are too young", and "you are a woman", you will regret all your life
I came to RF after I graduated from high school. When my friends around me were entering a higher school, I stepped into the society. I hesitated when I chose to go this way, and felt perplexed in many aspects. Since the time I entered into this company, I told myself that if I did not have a try because "I am young" or "I am a girl", I would regret in the future, so I am always willing to try any work. I have ever initiatively expressed that I would like to have a try and went on business trip alone. The company offered me a lot of development chances. There are mild seniors who will sometimes remind me sternly and seniors who offer me chances and give me support in this company. They do not have any relation with me in the post or job position, but they are my partners in RF. Although I am not skilled in work, I will keep working hard in order to become a person like those senior members.
Entered into the company in 2008  Production Department
In the business event last autumn, she was nominated to go on a business trip and carry out "actual maintenance practices" as a technology specialist. In fact, it was her first personal trip. She was very nervous, and even cried a day before the trip. But she did the job well, and got much progress! She looks like what an ordinary girl may look like at first glance, but her fingernails are always kept very short for the operation.
R&D Department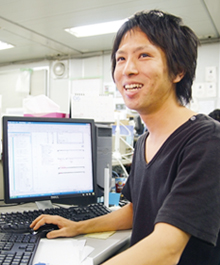 Chihiro Komamura
What we need is motivation
I still remember that when I first entered into this company, I was asked the question, "Are you really sure that you do not want to be arranged to other Department?" I was graduated from School of Law, but my first request was to work at Production Department. I wanted to try because the company says "persons without experience are welcomed" and it seems interesting". In fact, I did not think carefully about it that time. After joining this company, I found that the environment of the company was somewhat different from that I depicted in my mind. We did not only do things as per manuals. If I came across something that I did not know how to do when I just entered into the company, the company would offer me the time to learn, and what we need was sufficient motivation. I did have many things that I did not know how to do at that time, but now I am engaged in framework design in the R&D Department. Although there are still many things to learn, I will make progress every day and always want to bring better products to those in need.
Entered in the company in 2005  Production Department → R&D Department
Now, he studies CAD drawings every day and looks very professional, but he was in fact graduated from School of Law, and had almost no experience in drawings before. The company did not care about your major in "science" or "arts", and pushed you to discover your capability from your interests. As long as you have the enthusiasm to have a try, you can be a member of RF, and that is the idea of RF. This RF way is proved with his achievements and the products he has designed.
〈Pickups from RF's Daily Reports〉
Every day, all staff will write down their feelings and thoughts they have on that day, and those form the Daily Report. RF will distribute Daily Report to all staff so that we can share the information. The content in the Daily Report can be reflected on the development, improvement and sales planning of the new products.
*The names below have been changed with one characters of their first and last names.
---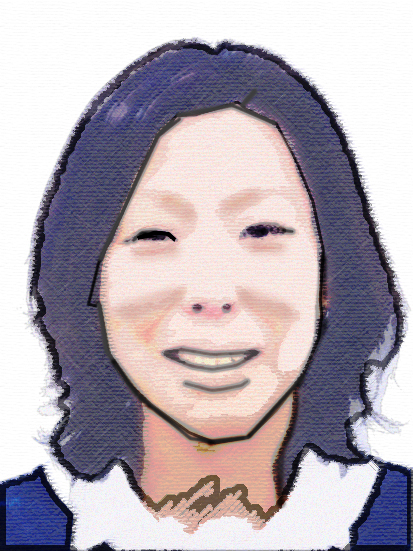 Tsugumi Asaya
Tohoku Manufacturing Facility
Entered into the company in April 2014 / 47 years old
---
A wife visited our factory in her job search, accompany with her husband. At the end of their visit, the husband said, "I was so inspired by RF, full of passion like a novel of "Ikeido Jun's (Japan's famous novelist). An exceptional company around here...". His words made me realized a wide future to RF. With plans of new factories in Shikoku and Kumamoto prefectures, growth addition, together with brilliant fellows full of passion for the big future.

Kenji Morinouchi
Kagoshima Manufacturing Facility
Entered into the company in August 2015 / 34 years old
---
By Daily Report or by way of "Any Consulations", the speed in raising questions and answering with key improvement points is amazing. Through the wonderful ideas to share the thoughts with all staff, suggestions emerge one after another, and the brand-new ideas and speed are incomparable by other companies. Besides, we can do this because of the environment that allows easy information sharing we have made and achieved. I hope I could come up with a good idea, of course about a product improvement, but also about a change for easier and more effective operation environment or reduced working time.

※「Any Consultations」: A special email address shared by all staff in the company, to discuss any topics and bring up any questions or asking any consultations.

Kasumi Higashimoto
Kagoshima Manufacturing Facility
Entered into the company in December 2015 / 28 years old
---
Today, the prefectural government officials visited our facility. Their first words on the visit were "Everyone at your company is lively and so active!" And they excitingly told me "We have been visiting various companies till now, but it is our first time to visit a company with open-minded atmosphere and with good and lively, young employees." They were glued to our 10-yen & 50-yen vending machines, which are for breads & soups and drinks respectively. And they were so impressed to learn from my explanation about the vending machines being installed at our all shops and facilities. I have realized again that this environment which we feel so natural as we are here everyday, is entirely fresh and surprising for people from outside who knows various copmanies.

Masahisa Ooyagi
Central R&D Center (Nagano, R&D Department)
Entered into the company in September 2011 / 35 years old
---
Every day we can experience many things. With "Gocha-Maze" environment with all various staff members struggling together, we have a new task or something we do not know the answer for. But, I can all enjoy taking challenges, and every time I face them, I want to achieve a new step of my life with lots of experience and learning new things. In order to grow together with the junior members, I also want to share what I have learned before with them, and then take in brand-new things.

Rika Takou
Asahikawa Manufacturing Facility
Entered into the company in June 2016 / 39 years old
---
I have felt very nervous each time when we see our members off who are visiting our customers (in many cases, dentists are our users and customers) with our best proposal which we think very hard to meet the customers' demand and clinic environment etc., and how we could appeal advantages of our products, since we are not a professional sales personnel When our proposals are accepted and satisfied by the clnics, we will gradually become more confident and become to enjoy more of it. Even though sometimes we cannot make achievements, our efforts made in this process are not in vain. We should not ignore such an experience. Instead, we should learn from each experience and each will be our foods in the future.

Moriko Itsuki
Tobu Manufacturing Facility (Nagano, Sales Department)
Entered into the company in April 2005 / 35 years old
---
In the plenary morning meeting, I heard Director Sato said, "I joined this company at Tohoku Manufacturing Facility, and then, I took a chance voluntarily and went to Tokyo Store for training. I was so nervous and concerned, but various experience in Tokyo made me mature". I was impressed with his words. I know he took his big chance, and joined the setup of Asahikawa Manufacturing Facility after training at Tokyo Store. His motivation and acts taking big challenges should have encouraged many members. And I feel that he became so reliable and matured.

Chihiro Oda
Tobu Manufacturing Facility (Nagano, Sales Department)
Entered into the company in May 2011 / 37 years old
---
Today, Ms. Matsuzaka received an inquiry call on NAOMI for internal medicine use, and closed a sales order over the phone! The order was straightforward, so we were so happy about this order! It is her second year after she joined us after graduation. Ms. Matsuzaka is such a reliable person because she tries variety of projects/jobs from medical, dental, and industrial business, as well as advertising design too. She has a lot of talents and her challenges tell me many things to learn. I hope that I can keep absorbing the merits of seniors and form a positive influence on surrounding people for a good atmosphere, which is the most important!

Kanade Kotou
Tohoku Manufacturing Facility (Now training in Yokohama Store)
Entered into the company in April 2013 / 22 years old
---
Today, I joined and supported Tokyo Store members. When I check at the schedule of Tokyo Store, I find the words "Coming to the store" many times each day (many appointments from the customers visiting Tokyo Store). Today, there are still a lot of appointments and visitors without the reservations. Some told me they can easily find Tokyo Store, because it is just in front of Tokyo Station. One dentist was from Hokkaido because he wanted to check out our NAOMI-CT. He was still thinking to have a CT in his office, but not anytime soon. But I hope he could come and visit our Asahikawa Manufacturing Facility because he can see our production site of the CT. Our current working atmosphere is really very good, and the company let me take a challenge when I say I want to try the sales and the customer services. In fact, speaking of CT, I believe it is so nice to tell that "I was actually producing this CT at Tohoku Manufacturing Facility". Now, there are many things that I cannot explain fully to dentists (customers), but I will learn this make my progress step by step.

Hikari Takesoto
Tokoy Store
Entered into the company in April 2013 / 26 years old
---
Today is the beginning of a new month! In each month, we keep advancing towards our goals. While we discuss to decide our own goal, we can truly feel that we are grateful of new encounters and new and various dramas to become our users. I want to be a person who can encourage my team more and more, and everyone can motivate the others! Rather than someone does, I want to do it.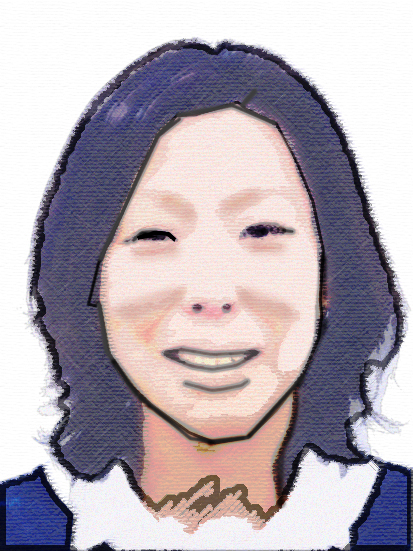 Tsugumi Asaya
Tohoku Manufacturing Facility
Entered into the company in April 2014 / 47 years old
---
Summer ninja's polo shirt uniform! The other day, Tohoku members talking about it in their daily report, and now, a seasonal object, great speed preparation moving. Of course large amount of expenses, but employees thoughts had been listened, the whole company ideas, design have been considered, the process are shared with everyone. That's RF way. These thankful surroundings persuade passion to work together.