The first office was in a tiny apartment room.

In 1993, Jiro Maruyama founded the company with his wife, Yuriko, focusing on the technology of CCD and wireless transmission. The business started from the design and manufacturing of broardcasting and industrial cameras, but now stretches from intraoral camera, medical/industrial x-ray sensor, industrial borescope to capsule endoscope.

And RF introduced the dental CBCT system (NAOMI-CT) in 2011 and the industrial 3D scanner system (NAOMi-CT) in 2016, and both have seized the top share in the CT market only within a year from their debut.

In the dental market, 85% of the world's intraoral cameras are made by RF.
Also, in the medical field, a digital x-ray sensor debut in 2006, has seized the No.1 share,
and continues to expand the market share today.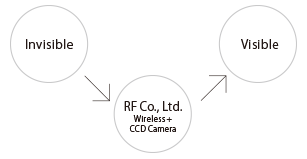 Radio Frequency, meaning the wireless connection.
Centering on the CCD and wireless technologies as well as technique that visualizes the invisible,
RF products are widely appraised in various fields, including medical, dental and industrial markets.