01/18/2010 RF SYSTEM lab.
RF Co., Ltd. Wins Red Herring 100 Global Award
Great contribution to world medical equipment market with its unique technology
January 14, 2010 - Red Herring announced that RF Co., Ltd. is a winner of Red Herring 100 Global Award, given to leading private technology companies around the globe.

Red Herring Inc.(U.S.) has given this award to most promising top 100 companies from North America, Europe and Asia. Each company is evaluated and assessed not only by its products or service, but also financial data, business model, technological innovation and dedication to the business community.
1,200 winners and finalists from each region in the past 3 years entered into this competition and 200 companies were chosen as official finalists to compete for Red Herring 100 Global Award. The final screening to select the top 100 companies was done at an event on January 12-14, 2010 at the Ritz-Carlton Hotel, Laguna Niguel, California.
CEO or representatives of the companies gave presentation followed by question-and-answer session. At dinner party on 14th, each contestant made it through to win the competition received a certificate from Alex Vieux, CEO of Red Herring.

Our unique technology of "NAOMI - direct digital x-ray sensor" and "Sayaka - next generation capsule endoscope" achieved recognition together with our penetration to the global market. We, RF Co., Ltd., as the world leading company of medical equipment proclaim to work toward greater achievement in serving in the global medical market.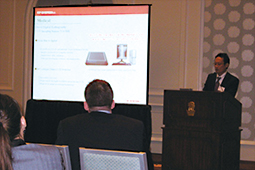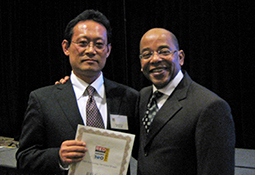 Past Winners
Google, Yahoo!, Skype, Netscape, Salesforce.com, You Tube, e-Bay were recognized by the Red Herring editors and received the award. Red Herring Award is considered as a gateway to success for venture companies around the globe.
Red Herring
Multimedia company that covers innovation, technology, financing and entrepreneurial activity. Also offers opportunities to gather them together through magazines, daily news or events.
Contact
Public Relations
e-mail : pr@rfsystemlab.com
---
Corporate Information
Company Name
Registered
Headquarters
Capital
Employees
Business Activities
RF Co., Ltd.
June, 1998
3 Nakagosho, Nagano, Japan, 380-0935
901,100,000 yen (Capital Reserves 881,100,000 yen)
175
■ Medical (Direct digital radiography imaging sensors, Medical video scopes, etc.)
■ Dental (Digital radiography sensor, Intraoral cameras, etc.)
■ Industrial (Digital radiography non-destructive testing systems, industrial video borescopes)
■ Development of capsule endoscopes / disposable endoscopes, etc.