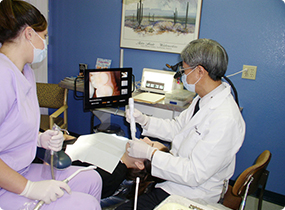 Now, be the first one to explore what is beyond your expectation with Doctor's Station.
All-In-One Digital Imaging System, Doctor's Station is designed based on ergonomics for dentistry practitioners to be able to perform most of dental procedures with correct and relaxed posture. It is the versatile imaging system, which can provide better diagnostics efficiency level and more effective informed consent to patients.
This versatile monitor provides more than just displaying the images. Doctor's Station with the stylish look can save the images from any of our wireless camera into the built-in SD memory card for easier access.