Our Voices
RF is an Amateur group with "Gocha-Maze style", all kinds of talents work together.
RF develops people who have

"Tsubushi Ga Kiku"

skills.
("Tsubushi Ga Kiku" means it is so marketable that they can be manager candidates anywhere even in other companies.)

You can unlock your potentials to the greatest extent and meet many members
who found their hidden skills here!
Shogo Tanaka
Deputy Manager, Suwa Manufacturing Facility
From Nagano Prefecture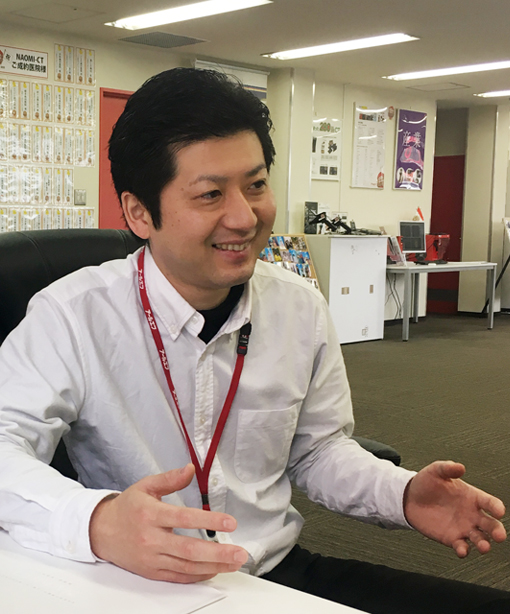 Katsumine Sato
General Manager
From Fukushima Prefecture
Naoko Yoshioka
Yokohama Store Manager
from Kanagawa prefecture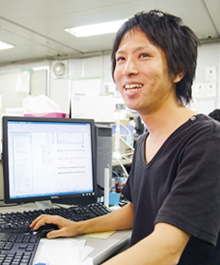 Chihiro Komamura
Operating officer and General Manager
From Nagano Prefecture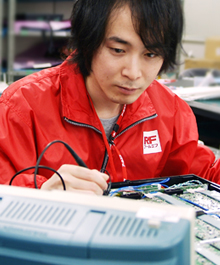 Akio Koyanagi
Director of Director
From Nagano Prefecture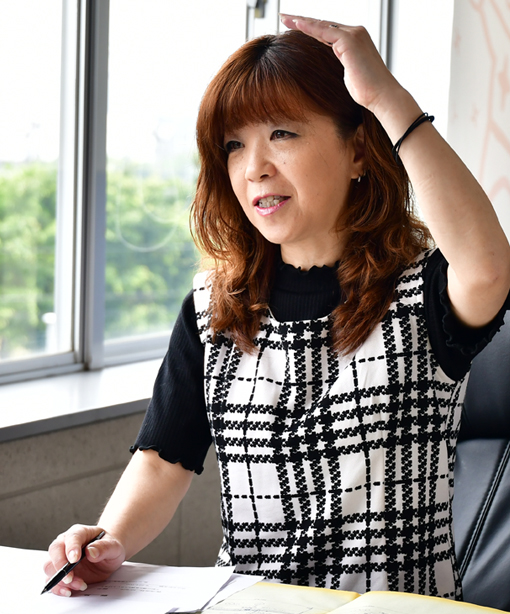 Yoko Natsume
Senior Managing Director
From Nagano Prefecture
Naomi Karasawa
Executive Vice President
From Nagano Prefecture
<Pickups from RF's Daily Reports>
Every day, all staff will write down their feelings and thoughts they have on that day, and those form the Daily Report. RF will distribute Daily Report to all staff so that we can share the information. The content in the Daily Report can be reflected on the development, improvement and sales planning of the new products.
*The names below have been changed with one characters of their first and last names.
---
Nanako Sugimoto
Okayama Manufacturing Facility
Joined the company in January 2018 / 40 years old

(From Hiroshima Prefecture)
---
Inside the company, all of the workers had received an email asking any opinions for using the Ninja Room. I would like to express my honest opinion frankly, including what I thought or noticed from talkig to visitors who came in for joining our cosplay event like yesterday. When I first joined RF, I remember that it was so surprising that we gather opinions and thoughts through out the whole company. In the companies I worked in the past, only the upper management discussed and decided all important topics, and company members just followed their decisions. It would be better for everyone in the company to join the discussions and decide on a variety of opinions. And this should improve and lead to motivations of all members. I think that it is really great to practice "no matter what position, employee or part-time members".
Masaharu Sotono
Asahikawa Manufacturing Facility
Joined the company in February 2018 / 38 years old

(From Hokkaido Prefecture)
---
It is one of the triggers for me to join RF, the words of "even the inexperienced person is welcome and can try" listed in the insert flyer. I was anxious and thought "Is it true?", but now I think it is true. Everyone notices when someone is in trouble when dealing with a telephone, talks with each other, and consults for the best solution. And members always support me are not only in the same office but they are all around the country, which gives me a sense of confidence and releif. In addition, the work environment of the "gocha-maze" system is extraordinary and it was unthinkable in the previous job. I still feel that everything is fresh and interesting. I also want to convey with confidence to those who will join the company in the future.
Tsugumi Asaya
Tohoku Manufacturing Facility
Entered into the company in April 2014 / 47 years old

(From Fukushima Prefecture)
---
A wife visited our factory in her job search, accompany with her husband. At the end of their visit, the husband said, "I was so inspired by RF, full of passion like a novel of "Ikeido Jun's (Japan's famous novelist). An exceptional company around here...". His words made me realized a wide future to RF. With plans of new factories in Shikoku and Kumamoto prefectures, growth addition, together with brilliant fellows full of passion for the big future.
Kenji Morinouchi
Kagoshima Manufacturing Facility
Entered into the company in August 2015 / 34 years old

(From Kagoshima Prefecture)
---
By Daily Report or by way of "Any Consulations", the speed in raising questions and answering with key improvement points is amazing. Through the wonderful ideas to share the thoughts with all staff, suggestions emerge one after another, and the brand-new ideas and speed are incomparable by other companies. Besides, we can do this because of the environment that allows easy information sharing we have made and achieved. I hope I could come up with a good idea, of course about a product improvement, but also about a change for easier and more effective operation environment or reduced working time.

※「Any Consultations」: A special email address shared by all staff in the company, to discuss any topics and bring up any questions or asking any consultations.
Masahisa Ooyagi
Central R&D Center (Nagano, R&D Department)
Entered into the company in September 2011 / 35 years old

(From Nagano Prefecture)
---
Every day we can experience many things. With "Gocha-Maze" environment with all various staff members struggling together, we have a new task or something we do not know the answer for. But, I can all enjoy taking challenges, and every time I face them, I want to achieve a new step of my life with lots of experience and learning new things. In order to grow together with the junior members, I also want to share what I have learned before with them, and then take in brand-new things.
Rika Takou
Asahikawa Manufacturing Facility
Entered into the company in June 2016 / 39 years old

(From Hokkaido Prefecture)
---
I have felt very nervous each time when we see our members off who are visiting our customers (in many cases, dentists are our users and customers) with our best proposal which we think very hard to meet the customers' demand and clinic environment etc., and how we could appeal advantages of our products, since we are not a professional sales personnel When our proposals are accepted and satisfied by the clnics, we will gradually become more confident and become to enjoy more of it. Even though sometimes we cannot make achievements, our efforts made in this process are not in vain. We should not ignore such an experience. Instead, we should learn from each experience and each will be our foods in the future.
Kanade Kotou
Tohoku Manufacturing Facility (Now training in Yokohama Store)
Entered into the company in April 2013 / 22 years old

(From Fukushima Prefecture)
---
Today, I joined and supported Tokyo Store members. When I check at the schedule of Tokyo Store, I find the words "Coming to the store" many times each day (many appointments from the customers visiting Tokyo Store). Today, there are still a lot of appointments and visitors without the reservations. Some told me they can easily find Tokyo Store, because it is just in front of Tokyo Station. One dentist was from Hokkaido because he wanted to check out our NAOMI-CT. He was still thinking to have a CT in his office, but not anytime soon. But I hope he could come and visit our Asahikawa Manufacturing Facility because he can see our production site of the CT. Our current working atmosphere is really very good, and the company let me take a challenge when I say I want to try the sales and the customer services. In fact, speaking of CT, I believe it is so nice to tell that "I was actually producing this CT at Tohoku Manufacturing Facility". Now, there are many things that I cannot explain fully to dentists (customers), but I will learn this make my progress step by step.
Hikari Takesoto
Tokoy Store
Entered into the company in April 2013 / 26 years old

(From Nagano Prefecture)
---
Today is the beginning of a new month! In each month, we keep advancing towards our goals. While we discuss to decide our own goal, we can truly feel that we are grateful of new encounters and new and various dramas to become our users. I want to be a person who can encourage my team more and more, and everyone can motivate the others! Rather than someone does, I want to do it.
Tsugumi Asaya
Tohoku Manufacturing Facility
Entered into the company in April 2014 / 47 years old

(From Fukushima Prefecture)
---
Summer ninja's polo shirt uniform! The other day, Tohoku members talking about it in their daily report, and now, a seasonal object, great speed preparation moving. Of course large amount of expenses, but employees thoughts had been listened, the whole company ideas, design have been considered, the process are shared with everyone. That's RF way. These thankful surroundings persuade passion to work together.